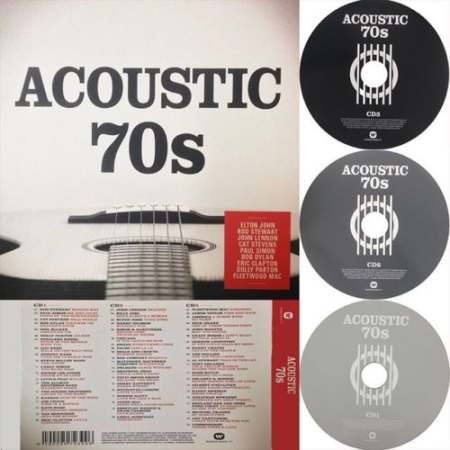 Mp3/CBR-320 kbps | Pop, Classic Rock, Rock n Roll | 03:46:49 | 300.05 MB
Label: Warner Music TV ‎- 0190295723996
VA - Acoustic 70's - 60 Hit Chart Tracks (3CD) (2017)
14 Days Free Access to USENET!
Free 300 GB with Full DSL-Broadband Speed!
CD1

1-1 -Rod Stewart Maggie May

1-2 -Paul Simon Me And Julio Down By The Schoolyard

1-3 -Cat Stevens Wild World

1-4 -Bob Dylan Knockin' On Heaven's Door

1-5 -Don McLean American Pie

1-6 -Dolly Parton Jolene

1-7 -Stealers Wheel Stuck In The Middle With You

1-8 -Lou Reed Walk On The Wild Side

1-9 -Johnny Nash I Can See Clearly Now

1-10 -Steve Miller Band The Joker

1-11 -Carly Simon You're So Vain

1-12 -Rickie Lee Jones Chuck E's In Love

1-13 -Little Feat Willin'

1-14 -The Allman Brothers Band Midnight Rider

1-15 -The Doobie Brothers Listen To The Music

1-16 -Kansas (2) Dust In The Wind

1-17 -Jim Croce In A Bottle

1-18 -Kate Bush Wuthering Heights

1-19 -Van Morrison Into The Mystic

1-20 -Eric Clapton Layla (Unplugged)

CD2

2-1 -John Lennon Imagine

2-2 -Billy Joel She's Always A Woman

2-3 -Elton John Your Song

2-4 -Harry Nilsson Without You

2-5 -Simon & Garfunkel Bridge Over Troubled Water

2-6 -Chicago (2) If You Leave Me Now

2-7 -Bread Everything I Own

2-8 -Faces (3) Ooh La La

2-9 -Seals & Crofts Summer Breeze

2-10 -Bad Company (3) Seagull

2-11 -Matthews' Southern Comfort Woodstock

2-12 -Orleans Dance With Me

2-13 -The Grateful Dead Uncle John's Band

2-14 -Patti Smith Group Because The Night

2-15 -Gerry Rafferty Baker Street

2-16 -Nicolette Larson Lotta Love

2-17 -Bonnie Raitt Love Me Like A Man

2-18 -Judee Sill Jesus Was A Cross Maker

2-19 -Emmylou Harris & Gram Parsons Love Hurts

2-20 -Linda Ronstadt Desperado

CD3

3-1 -Fleetwood Mac Songbird

3-2 -James Taylor (2) Fire And Rain

3-3 -America (2) A Horse With No Name

3-4 -Nick Drake One Of These Things First

3-5 -John Martyn May You Never

3-6 -Crazy Horse I Don't Want To Talk About It

3-7 -Gordon Lightfoot If You Could Read My Mind

3-8 -Harry Chapin Cat's In The Cradle

3-9 -The Hollies The Air That I Breathe

3-10 -Al Stewart Year Of The Cat

3-11 -Tony Orlando Tie A Yellow Ribbon Round The Ole Oak Tree

3-12 -Rose Royce Wishing On A Star

3-13 -Delaney & Bonnie Never Ending Song Of Love

3-14 -Gilbert O'Sullivan Alone Again (Naturally)

3-15 -Randy Newman Short People

3-16 -Jonathan Edwards (2) Sunshine (Go Away Today)

3-18 -England Dan & John Ford Coley I'd Really Love To See You Tonight

3-19 -Michael Franks St. Elmo's Fire

3-20 -Art Garfunkel I Only Have Eyes For You

3-20 -Commodores Three s A Lady



DOWNLOAD
uploadgig


rapidgator


nitroflare

VA - Acoustic 70's - 60 Hit Chart Tracks (3CD) (2017)
14 Days Free Access to USENET
Free 300 GB with full DSL-Broadband Speed!
LeeAndro
|
Comments (0)
|